Water is the lifeblood of the kitchen, and as housing design veers more towards open-plan concepts and statement features, the tap has become a fixture that plays far more than a functional role.
Manufacturers must now combine style with myriad features that make the kitchen tap as efficient as possible, protecting the earth's water resources and reducing energy and plastic consumption. Hot taps and filtration taps tick these boxes, removing the need for bottled water and kettles while also keeping counters free of clutter.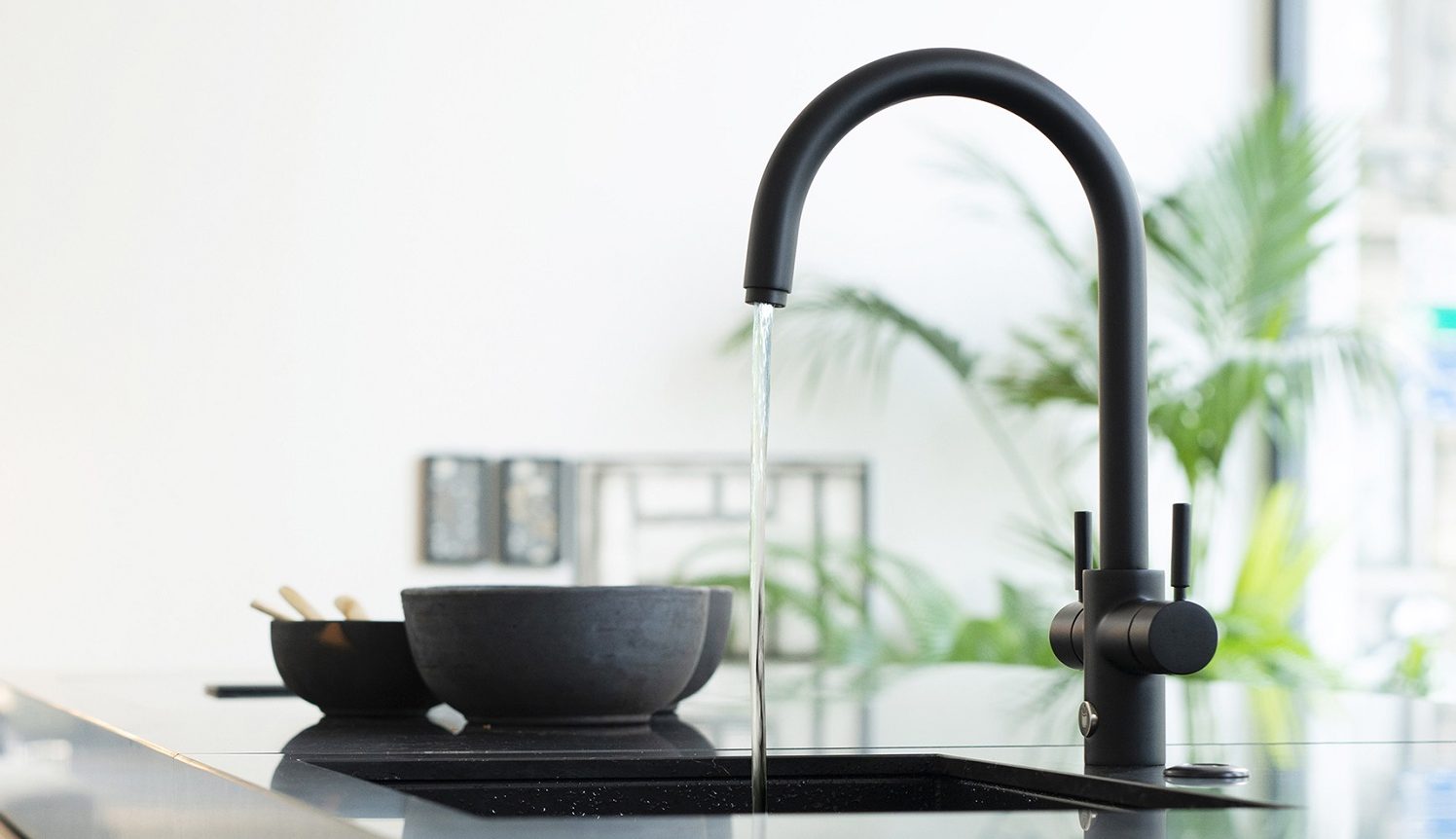 InSinkErator 4N1 Touch Tap
"According to a Green Homes report, energy efficiency is the most important feature that consumers are considering when purchasing a new home," says Anne Kaarlela, InSinkErator's marketing communications and customer service manager for Europe.
"This consequently is a huge opportunity for kitchen specialists to discuss energy-saving products that offer long-term savings with their customers."
InSinkErator's award-winning 4N1 Touch tap dispenses instant filtered cold and steaming hot water as well as regular hot and cold. The WRAS-approved tap is available in three shapes – L, J or U – and three finishes -Brushed Steel, Polished Chrome and Velvet Black – making it ideal for a range of kitchen styles.
Competitive and convenient
Once a premium feature, smart taps are quickly becoming standard as technology evolves, lowering the cost and opening the product sector up to a wider market. The convenience of these taps make them one of the most highly desired additions to new or refurbished kitchens.
Says Clearwater procurement manager Daniel Boulton: "Instant taps dispense near to boiling hot water, plus great tasting filtered cold water, make cooking tasks easier, frees the worktop from the clutter of a kettle and means no more waiting around for that kettle to boil just to make a hot drink."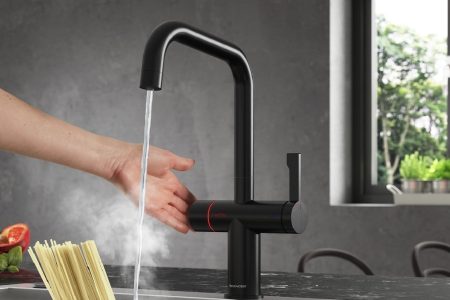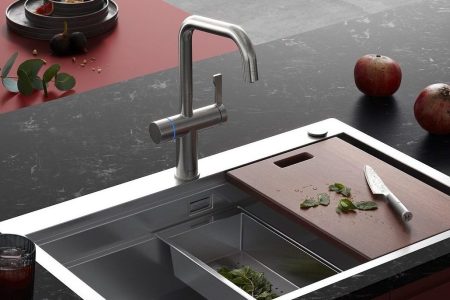 Clearwater's Magus 4 Electronic (pictured above) delivers four water options: 98°C and cold filtered water, plus domestic hot and cold. Its WRAS-approved digital thermostatic boiler has an ultra-compact design for under-sink installation, and it includes ten temperature settings from 45°C to 98°C, as well as child-safe features and a cool-touch spout.
Ditch the plastic
Demand for hot taps is only continuing to grow, with Rangemaster sales director James Cunningham noting that hot water taps are one of the top ten most desirable features in a UK kitchen, according to a recent Metro report. As many of these taps also feature fresh filtered water, they play a large part in reducing our consumption of single-use plastics.
"In the UK, 7.7 billion plastic water bottles are used each year, with the average person in the UK now using 150 plastic water bottles every year – that's more than three a week," says James. "If 10% of Brits refilled just once a week, around 340 million plastic bottles would be eliminated."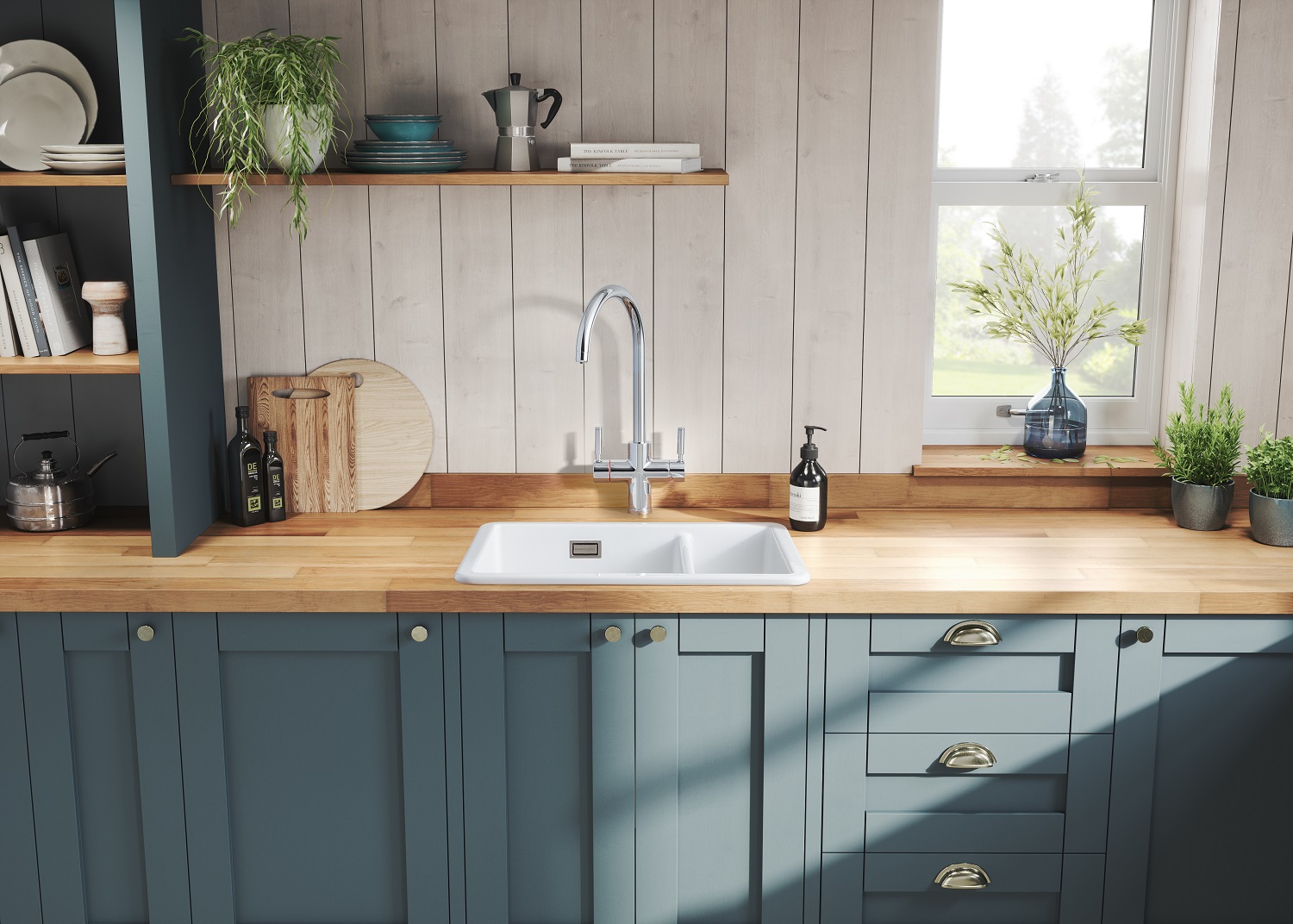 Rangemaster's GEO Intense 4-in-1
Rangemaster's GEO Intense 4-in-1 tap – which delivers filtered steaming hot water, cold filtered water, and regular hot and cold -features a controllable tank temperature range from 75˚C-98˚C, to ensure maximum energy efficiency, and has a complete refill time of just seven minutes, allowing it to provide around 65 cups of hot water per hour. The system's PROBOIL.2X boiler also boasts a power-saving mode with eco and holiday settings, as well as being insulated to reduce heating noise and save energy.
Go with the flow
It's not just residential kitchens that can benefit. The hospitality sector can make use of these smart taps to improve customer experience, eliminate the need for kettles and bottled water in hotel rooms, and reduce waste in working kitchens.
"In the hospitality sector we see the borders of the bedroom and bathroom dissolving, likewise with the kitchen and living room in the residential sector," says Patrick Speck, Grohe and Lixil global design EMENA Leader.
Taps that can instantly provide steaming hot and cold filtered water in hotel bathrooms and working kitchens are invaluable when it comes to efficiency – not just in terms of energy usage, but speed of service. Grohe's SmartControl tap features a water-saving eco mode, while its innovative pushbutton controls allow for the tap to be activated hands-free with the press of a wrist or elbow, offering improved hygiene for a high traffic area. The tap's pull-out spray head makes it easier to clean food and the sink before and after food prep.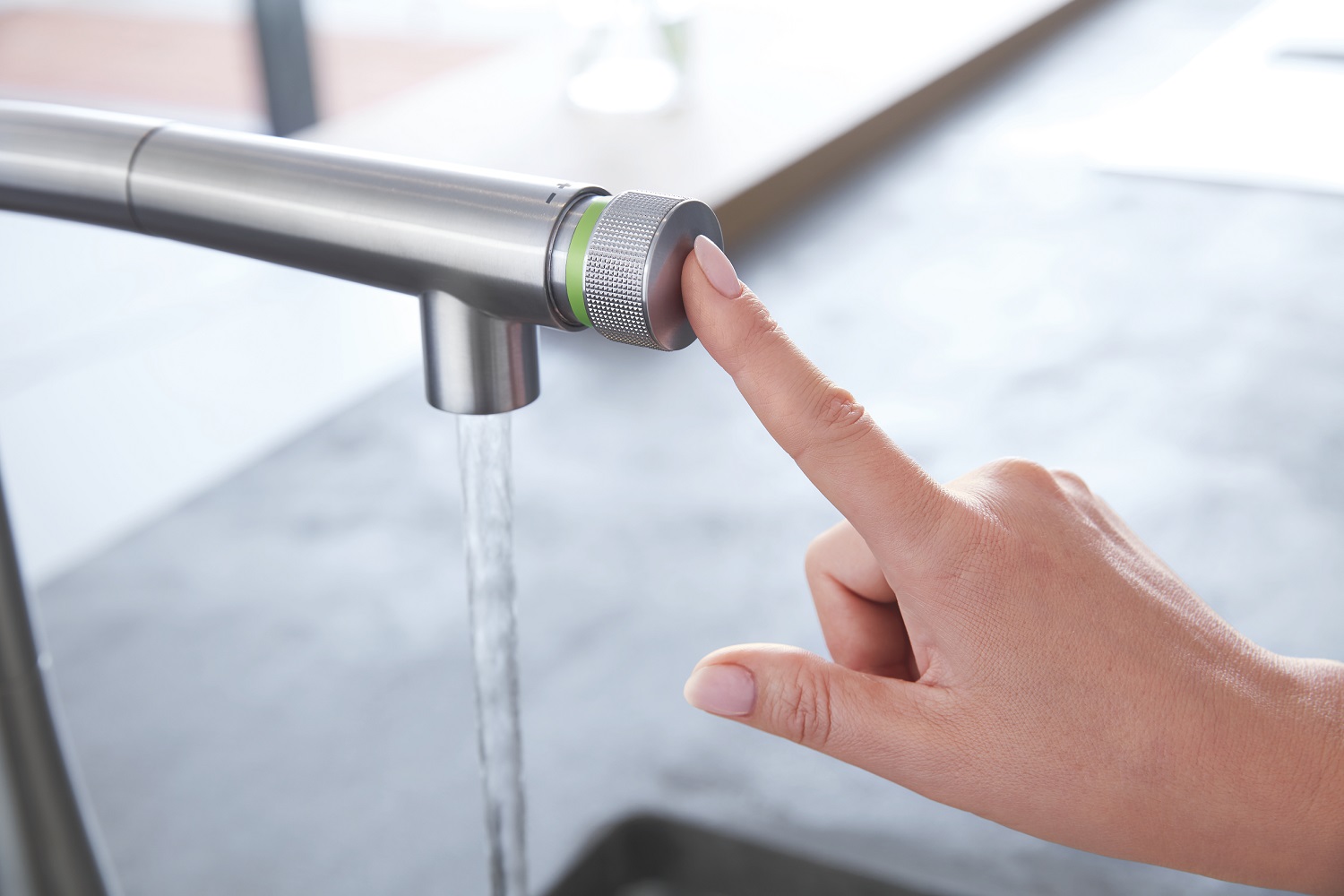 GROHE Zedra Smart Control in Super Steel
Eco industry
Ultimately, the kitchen tap has become a fixture that must combine functionality, aesthetic and energy efficiency. As more homeowners invest in these products, it's imperative that the latter remains a key focus.
"The UK kitchen market right now demands functional beauty that also protects our world's most precious natural resources," says Abode design manager Paul Illingworth, noting that filtered steaming hot water is now a feature in 40% of all new kitchens.
Abode's new Pronteau Industria 3 IN 1 (pictured very top and below) combines eco-friendly functionality with a showstopping design that fits seamlessly into the enduring industrial trend. Available in Brushed Nickel and a combination Matt Black and Antique Brass finish, the Industria 3 IN 1 has an urban slimline design and is WRAS-approved. It delivers domestic cold, hot and filtered steaming hot water, and Abode's free filter recycle scheme means users can return expired filters to the company at no cost.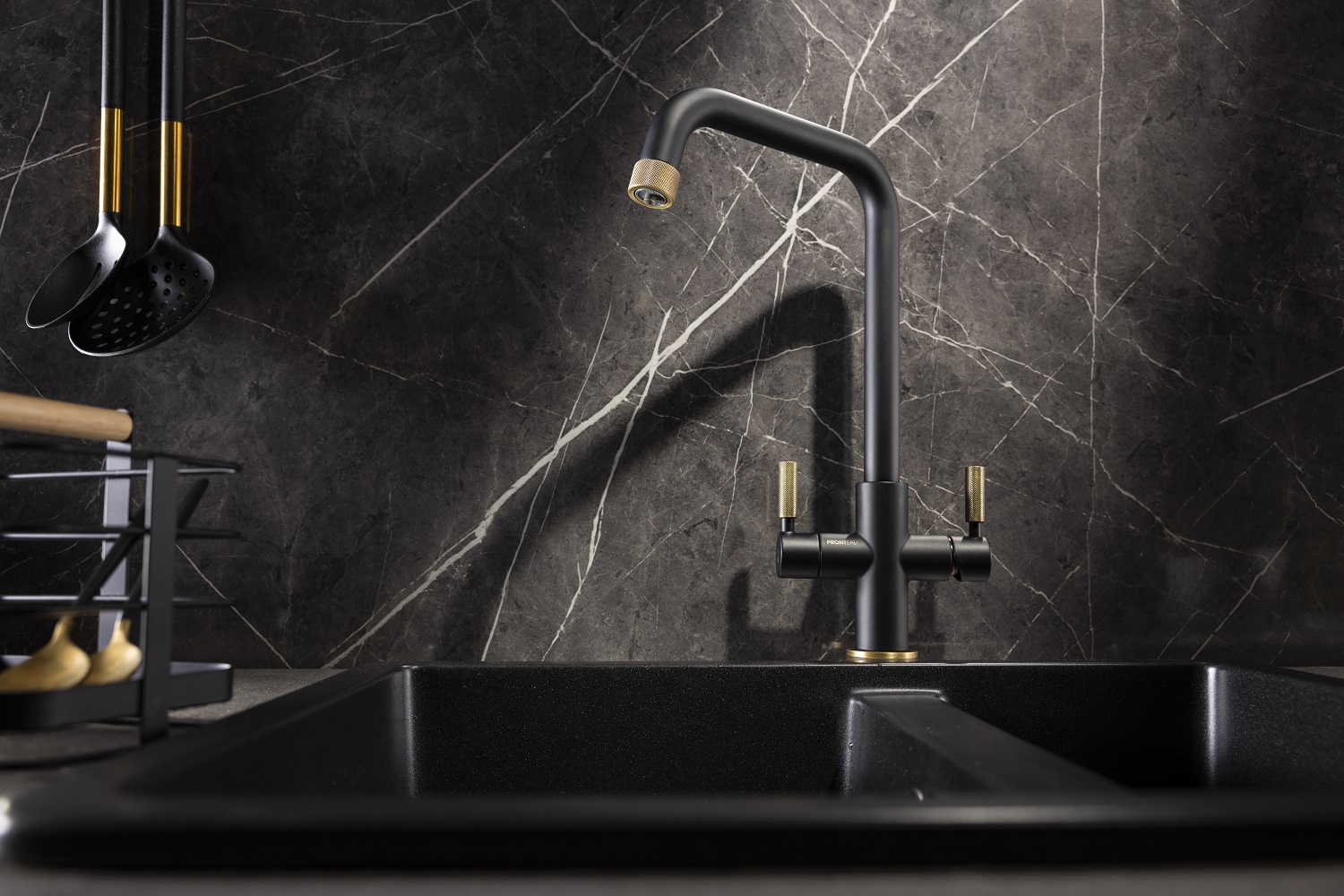 Industria 3 IN 1 Steaming Hot Water Tap
Feature by Ellie Clow – 24th February 2023
Ellie Clow has worked in journalism for over ten years, specialising in B2B and trade journalism. She has written for financial publications and several leading KBB titles.