Lighting plays a crucial role in creating a certain atmosphere in the kitchen. Homeowners want an inviting space that makes it a pleasure to both cook and dine in, and these two activities require different lighting specifications. Function needs to meet comfort in the kitchen, and the simplest way to marry these two elements is through intuitive and creative lighting.
"Lighting should never be underestimated," says Jo Littlefair, Co-Founder and Director of Goddard Littlefair. "Not only is it essential for various tasks but it has a huge impact on the ambience of a room and consequently how people feel and react in the space.
"If you have the ability to plan the architectural lighting of a space, that is the lighting that is fixed to the framework of the room, then consider how the light sources themselves can be concealed in coffers or by lighting shelves of a bookcase for example. Don't ignore the obvious places where you need task lighting such as above a sink."
Get in the Zone
For kitchens with dining areas, independent statement lighting is a simple yet impactful way of separating cooking and eating space. Planning out zones in the kitchen with different mood lighting can allow homeowners to create areas of relaxation that, mentally, feel separated from cooking and food preparation areas despite being in the same room.
"If you have a bigger kitchen space with an island, we would often recommend incorporating pendant lights that are easily dimmable. This is so that you can reduce the brightness down when you have finished your food preparation and then have a relaxed environment to socialise with guests and family," says David Amos, CEO at Amos Lighting + Home.
"Kitchen worktops will also need efficient illumination too and this is usually more common within smaller kitchen environments. For these kinds of spaces we would often recommend using a wall light as it offers the perfect feature lighting in these challenging areas."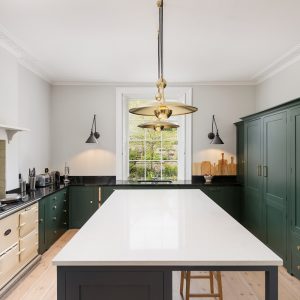 Amos – Aona Copper & Glass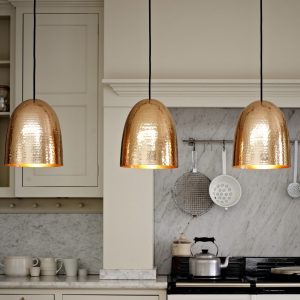 Amos Lighting's selection of pendant lights offer a range of modern, vintage and traditional options, including their Aona Copper and Glass Pendant, which features a mid-century style with industrial accents, while their Stanley Polished Copper Pendant by Original BTC features an elegant hammered finish.
Light meets Art
Empty State's new Light Pipe allows for the design of a true art piece in the kitchen that also has function. This innovative lighting structure comprises frosted glass pipe alongside polished marble and brass segments, and can be suspended vertically or horizontally to create a truly eye-catching feature.
We expect glass variations will continue to grow in popularity in 2022 with innovation in design encouraging the development of unique and show-stopping lighting pieces in simplified forms," says Ian Cameron, Creative Director at Empty State.
"All of our designs at Empty State feature a combination of brass or metal elements with glass (both clear and coloured). When illuminated, these glass and brass elements come alive. We are also noticing trends towards incorporating black finishes within interiors at the moment. The black anodised finish in our range adds a contemporary edge and a great architectural flair to a space."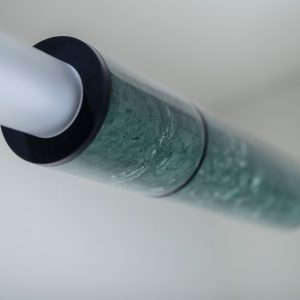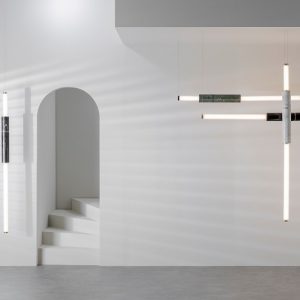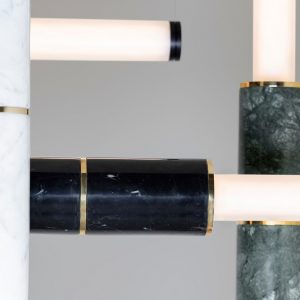 Subtle vs Statement
While some homeowners want lighting that is a focal component of their kitchen's design, others prefer more subtle measures. Both options work well in traditional or contemporary kitchens.
Atelier Alain Ellouz's new ICONIC lighting concept comprises basic, unconventional and conical forms sculpted from alabaster stone to create a true statement piece. Inspired by contemporary architecture, this lighting family is available in four distinct designs: LAB, FLO, PLI and GAMA.
Detail Lighting's Bluetooth LED lighting offers a more hidden solution without sacrificing the soft warmth of low incandescent lighting that homeowners prefer. Bluetooth control allows for an easy shift in mood lighting at the touch of a button, while LED provides a low-energy source with no worry of overheating.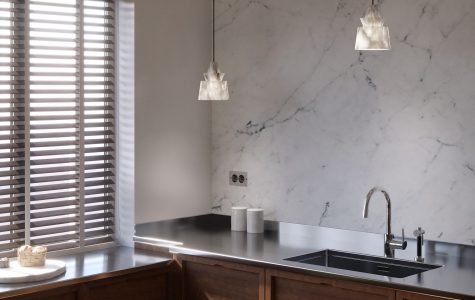 Atelier Alain Ellouz's ICONIC