The recent Platinum Jubilee weekend had us heading outside in our droves, soaking up the sun and spending time with friends and family after a gruelling two years. The Jubilee and the start of summer marked a time to celebrate, with good weather and good food.
Outdoor kitchens provide the perfect opportunity to enjoy both. The passion for cooking and eating outside is gaining popularity over here, and homeowners are getting more serious about creating dedicated areas in their exterior spaces.
"Outside kitchens are a huge trend in the UK currently," says CRL Stone managing director Simon Boocock. "As an extension of our living spaces, these exterior spaces are being used for cooking, socialising and relaxing. The materials chosen are very often inspired by nature, creating a sense of cohesion that can be replicated indoors too, for a seamless sense of flow."
One way to create a seamless flow from indoor to outside is the flooring used, one that needs to be versatile to withstand busy rooms as well as a range of weather conditions. CRL Stone's Ceralsio is frost-proof, slip resistant and UV resistant, so the tile colour won't fade in the sun. Tiles such as Ocean Stone create a natural effect, while Croma White and Croma Grey offer more contemporary solutions.
Sparkling stone surfaces
Equally as important in an outdoor kitchen are the worktops, which must be able to handle rain, sun and everything in between. The Lundhs Real Stone worktop collection from Lundhs Real Stone is made from Larvikite and Anorthosite stones and can withstand the harshest of climates.
The four surfaces in the collection — Lundhs Blue, Lundhs Royal, Lundhs Emerald and Lundhs Antique — don't absorb water, are stain resistant and able to deal with harsh temperature changes. The natural stone allows them to integrate pleasantly in an outdoor setting.
"Aesthetically, opting for a surface that will glisten in the sunlight will always work well," says Lundhs Real Stone marketing and business development director Hege Lundh. "The crystals within natural stone catch the light beautifully and make for the perfect outdoor surface choice."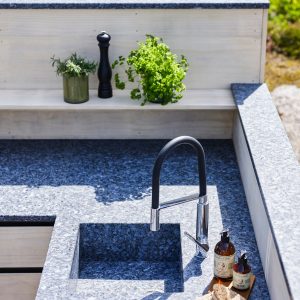 Lundhs Royal Natural Stone Worktop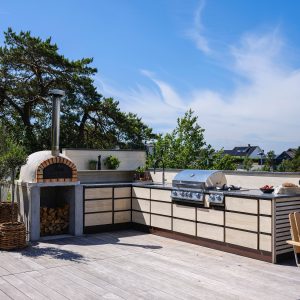 Outdoor kitchen – off the coast of Norway
Lundhs Royal Natural Stone Worktops
Design for al-fresco dining
Key criteria for outdoor kitchens include materials that are easy to clean, maintenance-free, have low porosity and a resistance to UV — all while remaining stylish and in-keeping with design trends within the home.
Königstone's new KönigOutdoor modular kitchen range allows for the design of an outdoor cooking space with ease. The sintered stone cabinetry offers durability and comes in eight finishes, from classic marble to contemporary concrete.
It provides an effortless built-in solution whatever the size of the area, and offers designers the chance to get inventive when creating a cooking space outside that blends with the interior of a house.
"More clients want their indoor and outdoor spaces to be as integrated and seamless as possible," says Königstone marketing manager Joanne Bull. "Technological innovations such as retractable pergolas and clever outdoor heating have also opened up our gardens for longer periods of the year."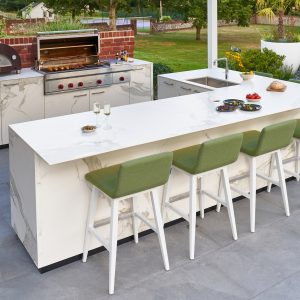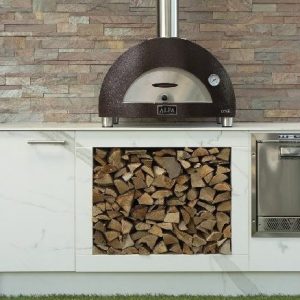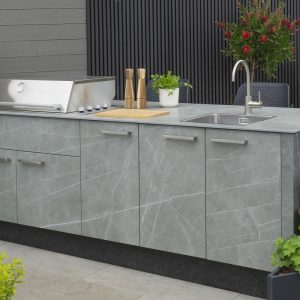 Steely resistance
While stone works excellently for a natural, earthy design, contemporary homes may lend themselves better to sleek, modern materials—but ones that must still be able to withstand their environment.
The new ÀTRIA collaboration with Studio Delineo and Massimo Rosati is Abimis's first kitchen made specifically for outdoor installation. Made entirely of AISI 304 stainless steel which, as well as being antibacterial and biologically neutral, also boasts resistance to corrosion, impact, humidity, moisture and high temperatures.
"The latest interior design trends speak clearly: the boundaries between the indoors and the outdoors have become blurred," says Abimis CEO Anna Ongaro.
"When choosing an outdoor kitchen, you need to pay particular attention to the materials. Since they are exposed to all weather day-in, day-out, outdoor kitchens must be extremely hard-wearing.
The absolute most suitable material for an outdoor kitchen is stainless steel. This metal alloy is extremely hard-wearing, hygienic and easy to clean."
ÀTRIA Mountain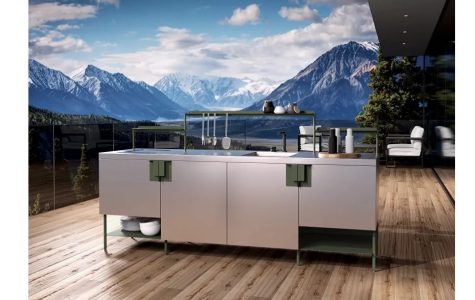 ÀTRIA Garden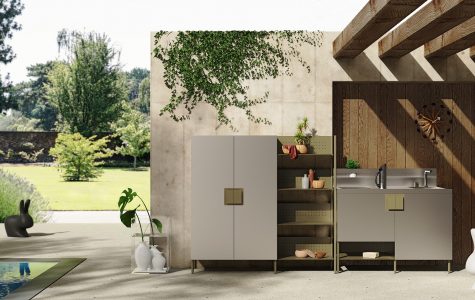 All the trimmings
To keep an outdoor kitchen looking deliberate and integrated, rather than a separated area of the garden, elements of its design can be incorporated into the exterior of the house. Cladding is a sleek and simple way to create seamless lines, and Trekker Global's collection of composite cladding are sustainable, FSC certified, anti-slip and won't rot or warp. It comes in 12 finishes, with three new colours being released for 2022 — Bronze, Earth and Pearl—giving homeowners many on-trend options.
"Composite cladding looks very similar to wood and blends in well with its surroundings – plus aesthetically it allows for a good flow, from the kitchen cabinets to the floor," says Trekker Global Project Director Nick Whiley. "It is also very low maintenance in comparison to other materials and will not rot, warp or splinter."