When designing a new kitchen, worksurfaces are arguably the second most important factor next to cabinetry.
Worktop materials have undergone a radical transformation in the last few years. New man-made solid-surface materials are not only durable and stain resistant, they are also easily cut to any design or shape.
This month we take a look at some of the latest innovations to reach the market.
If your new design incorporates corners and angles, then seamless composite materials deliver limitless design versatility. For example, MISTRAL from Karonia lets imagination take the lead, by delivering scope to create projects as varied as student accommodation, city apartments and even hotels and schools.
Laminates also deliver a variety of design options, Pronorm has launched four new luxury designs. Gerd Meier, Pronorm's Design Manager says: "Natural marbles continue as a strong design theme and our new laminates offer a realism in the print and surface texture that allows designers to use them in highly creative ways such as an impact island unit…"
Quartz worksurfaces deliver a cooler, more classic feel than laminate and as with CRL Quartz's new Antonella, work in perfect harmony with a range materials such as metal, exposed brick and timber, the perfect partner for industrial style themes.
Solid-core worksurfaces boast ultra-thin surfaces with a water-proof structure. Bushboard's Evolve is just 12.5mm thick and can also be used for upstands, shelves and splashbacks. The latest Aria worktops from Formica are available in 15 styles and can be installed with under-mounted sinks, cascading waterfalls and as or a focal-point island. 
 Solid-core Worksurfaces
Why are slim solid-core worksurfaces heralded a designers dream? Holly Turnbull, Bushboard's Marketing Communications Manager gives us her perspective…
The kitchen work surface arena is protected, to some degree, from the uncertainties of Brexit.  Materials like slim solid-core laminate surfaces have made it very easy for consumers who are hesitating to move into their own freehold homes, from a rented house, or even into a rented property to update an existing kitchen and so create a personal, clean space without spending huge budgets.  An interim, while-we-wait-to-see worktop replacement provides a fresh, and stunning individual look to a kitchen without the mess or enormous investment and using a co-ordinating splashback also avoids the need for retiling.
Solid-core laminates are 100 per cent waterproof and patterned on both sides – being 12.5mm thick the product is straightforward to work with and does not require off-site templating, which means a competent tradesman can undertake the work without the need for the time of a specialist fitter.  The colour inside these solid surfaces is either black or co-ordinated to suit the surface décor, which makes drilling for drainer grooves or cutting pieces to create bespoke open shelving straightforward.    Alongside the demand for a quick update, solid laminates are also providing kitchen designers in all parts of the market with fantastic design scope.  The savings made when compared to real marble, granite or wood worktops, allows designers to upscale furniture or appliances, and at the same time gives design options like mixing materials, statement splashbacks, waterfall end panels, undermount sinks, bespoke sized islands, and breakfast bars to make it an adaptable and striking product for all kitchens.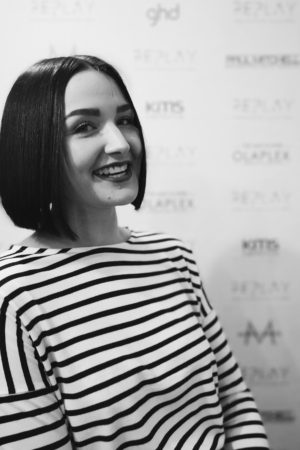 Holly Turnbull – Bushboard Marketing Communications Manager