Kitchen taps and sinks brand, Abode is embracing the growing trend for using natural materials in interior design with a series of timber-detailed kitchen innovations inspired by Mother Nature.
"Next year will continue to redefine the use of natural elements in the home, as many of us seek comfort and convenience from raw materials like wood, marble and natural stone, metal and glass. Incredibly hardwearing and versatile in design, the kitchen has become a playground for new levels of creativity. The best room schemes are now exploring a more conscious design aesthetic that offers the same benefits as nature but in the home. Combinations of wood and metal have become our greatest natural resources for elevating the kitchen space as the premium market becomes more attuned to using natural materials within the built environment.
For us, the wet zone is the latest area in the kitchen helping to satisfy our customers ongoing affinity for nature with a selection of all-in-one mixer taps through to specialist water filter taps and complementary sinks 'going natural'," says Paul Illingworth, design manager at Abode.
Big conscience. Minimal impact
The Naturalé Aquifier Water Filter Tap delivers fresh, cold filtered water alongside your regular domestic hot and cold. A simple twist of the FSC®-certified Beechwood timber handle gives instant access to crystal clear, filtered water and is sourced from responsibly managed forests, so you can enjoy the benefits of quality raw materials while becoming part of the solution to plastic pollution. An ergonomic, teardrop-style single lever handle effortlessly controls the water with cold start valve integration, helping to reduce unnecessary boiler use and a 5Lp/m flow limiter helps households save up to 97% less water per minute… without a drop in pressure! Available in three modern finishes, Brushed Nickel, Chrome and Matt Black, this is a green tap solution for the modern kitchen with a big conscience and minimal impact to the environment. In addition, its Aquifier high resin filter is part of the Abode filter recycle scheme, so it can be returned and recycled free of charge.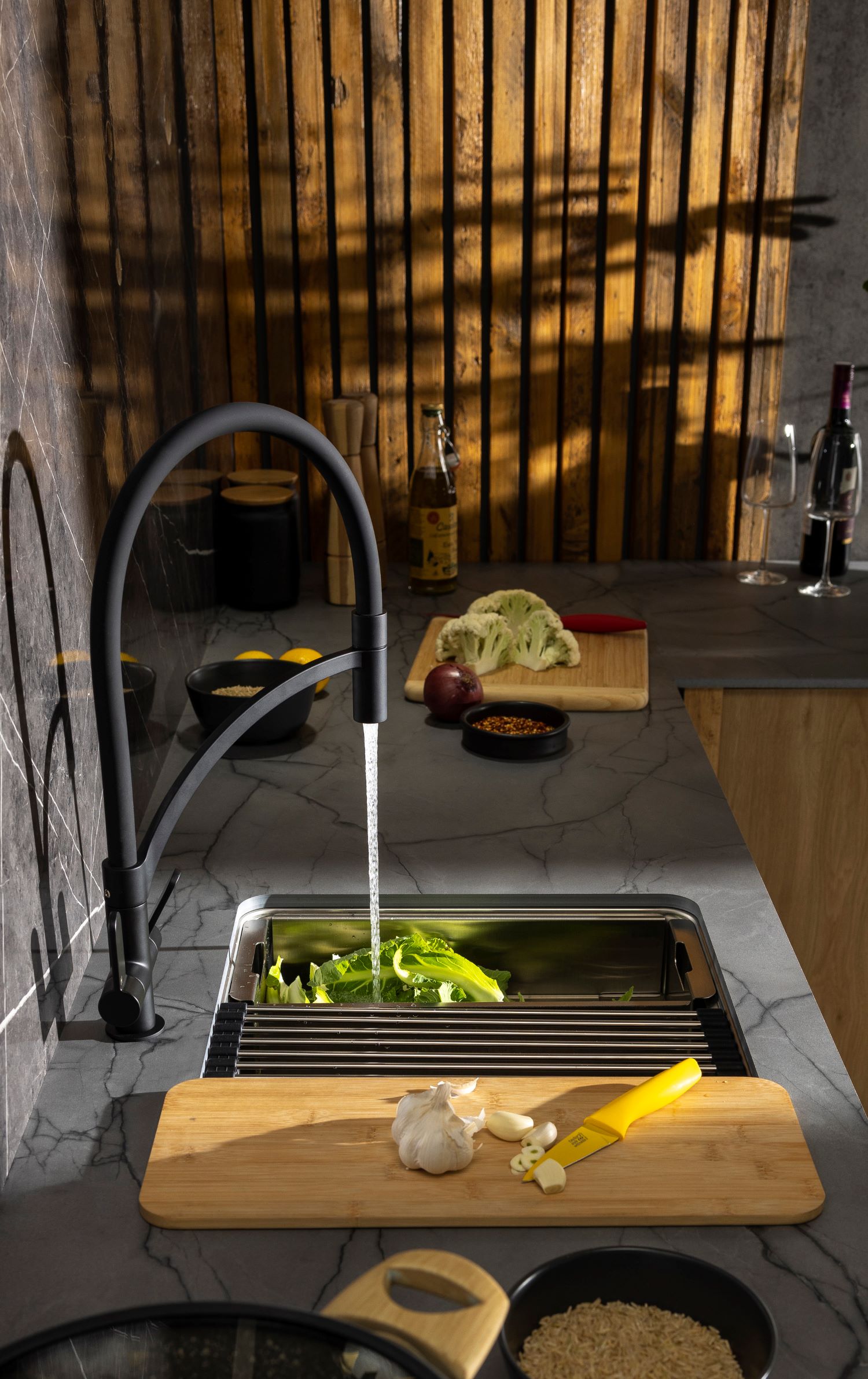 Eco-friendly, 100% Recyclable
Stainless steel is 100% recyclable and can be regenerated an infinite number of times, reducing the consumption of natural resources. Making the ideal kitchen sink, this robust material is resistant to scratching, corrosion and print marks making it the durable choice for an easy clean eco-friendly wet zone. Now you can streamline, simplify and synchronise the kitchen sink and prep zone with the help of System Sync, an exclusive range of stainless steel kitchen sinks with complementary accessories by Abode. Perfect when optimising space in the kitchen, System Sync allows UK homeowners to select a sink format that is right for them with three available bowl sizes crafted from 0.8mm 304-grade brushed stainless steel. Keen chefs will also appreciate the look and feel of the FSC® certified Prep Board, which is non-porous, easy to clean and kinder to your knives than plastic boards! Designed to make food prep an absolute breeze, this accessory fits perfectly into your chosen System Sync bowl for extra safety and security when cooking; it will also free up space and cut down on cleaning time!
Reduce single-use plastic
No matter what style of kitchen tap you have, Abode Swich® Wood will convert your mixer into a stylish filtered water tap! Small yet distinct, the exclusive and patented Swich® Water Filter System works in conjunction with any style of mixer tap, providing immediate access to fresh filtered water which passes through the Swich® filter cartridge. Simply turn the knob to divert the water from the domestic supply into fresh filtered cold water, which is free from chemicals and offers a better overall taste, appearance, and quality of drinking water. Swich® can be retrofit alongside any style of existing tap or added in new installations. It comes in a range of contemporary finishes and features an FSC® certified beech wood handle to provide a truly natural look and feel!
Leanne Stansfield, marketing manager at Abode says, "As a carbon-neutral business, we strive to use natural resources with the utmost care and our research and design team are committed to forecasting the latest lifestyle trends so everyone in the Abode family can plan for the future. Across our entire product portfolio we have strict quality standards, ensuring we only use the very best components and latest manufacturing techniques to ensure long-life performance and minimal impact to the environment."
Images by Abode show:
Top: AT2197-F5 Naturalé Aquifier Water Filter Tap in Matt Black with FSC® certified wood handle, £589
Middle Left: AW5143 System Sync 500mm Single Bowl Stainless Steel Sink, £362, with FSC® certified wooden non-porous AX2024 Prep Board at £49, AX2506 roll-up Flex Rack at £56 and AX1508 rectangular Colander at £84. Shown with AT2183 Genio Semi-Professional Pull Around Tap in Matt Black, £515
Middle Right: AT2202 Swich Wood® Water Filter System with FSC® certified beech wood Round Handle with High Resin Filter at £320, shown with AT2094 Hex Professional in Brushed Nickel & Black, £685
For further information, please contact Abode: t 01226 283 434 | e info@abodedesigns.co.uk | w www.abodedesigns.co.uk and www.pronteau.co.uk | For the latest brand news, please follow Abode on Pinterest, Facebook, Twitter and LinkedIn #WaterTheWayYouWantIt