With an original three-lever control design taking tap design back to its traditional roots, the Tri-Spa filter range from Clearwater Products are delightfully simple to operate, stylish and an important practical addition to the kitchen.
Available in three designs – Stella for crisp minimalism, Eclipse for soft flowing lines and Krypton for a touch of nostalgia, the Tri-Spa range enables retailers to offer all the advantages of filter taps while embracing any décor.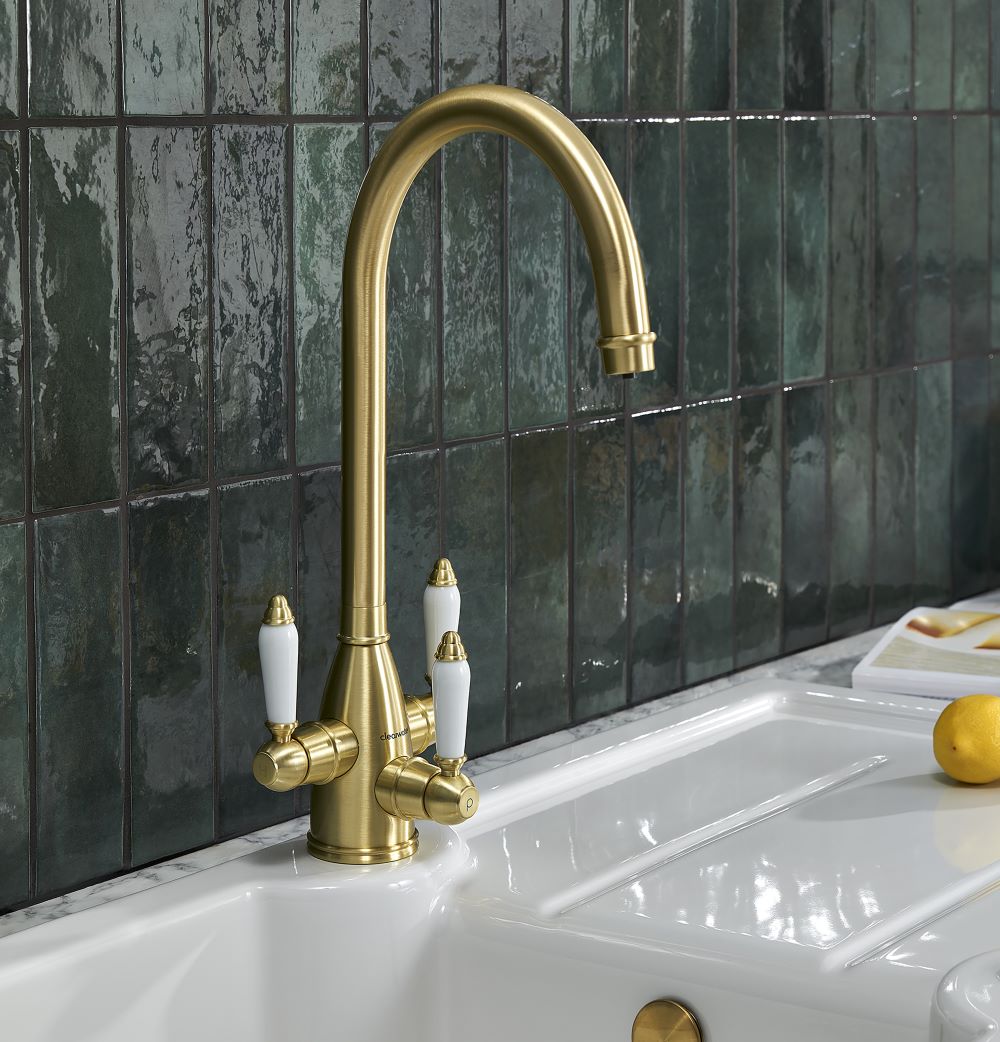 The range of finishes are just as diverse, including a PVD coating that helps withstand surface damage and Nano technology providing a more hygienic surface. Chrome, Brushed Nickel PVD, Matt Black and Brushed Brass PVD all feature within the collection, with matching wastes available to form a cohesive look.
Filter tap technology is increasingly a lifestyle choice in kitchen design as consumers look to ditch single-use plastic bottles in favour of fresh and great tasting water at the turn of a tap. The Tri-Spa range of taps is a popular choice with its versatile design and ease of use. Each of the tap's three levers operates its own waterway and is delightfully easy to operate, making it ideal for the family kitchen.
The domestic hot and cold are in the usual side positions, and the filtered water is controlled by the central lever. All models in the range have separated filter water conduits to avoid any mixing with unfiltered water.
All the taps in the Tri-Spa range are supplied with a Pure FlowPro – a digital filter replacement reminder system with live flow rate, enabling consumers to easily keep track of when it is time to replace the filter cartridge. Each Clearwater filter delivers 3,800 litres of filtered water, at a fraction of the price of bottled water. Untainted by the taste of heavy metals, limescale and chlorine results in fresh, great tasting water, straight from the tap.
Clearwater: 01684 299555 www.clearwaterproducts.co.uk
About the company:
Established in 2000, Clearwater offers an extensive range of kitchen sinks and taps. The collection includes sinks in granite, stainless steel and ceramic, plus the UK's only cast-iron sinks.
The company's tap collection is just as comprehensive, with innovations in technology, an on-trend finishes. It also specialises in Water Filtration, Hot Water and Sensor taps, offered in a wide choice of metallic PVD finishes.
Most products are backed by market-leading warranties and supported by an excellent after-sales service. Supply reliability is assured by high stock-holding and Clearwater's own delivery fleet from its Tewkesbury-based distribution centre.